I may have said this before…
OMG!

Archives
Does a bear bathe in the woods?
What Scarybear's getting for his Birthday
FILTHY-DIRTY-500x500 - In the downstairs bathtub this morning: two of the meatiest, most massive silverfish ever s... ow.ly/2QVai0 1 month ago
orange jello - My Fellow Inebriates, At least a dozen times a day Miss V asks if we can make Jell-O. My parents, w... ow.ly/2PHtC8 1 month ago
227 - My Fellow Inebriates, Where to start after three months? First, cheers to Beerbecue and The Dogs of Beer, wh... ow.ly/2PlUhY 2 months ago
How long could you survive?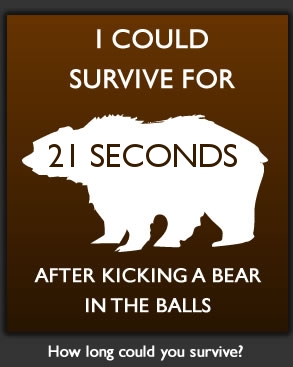 Created by Oatmeal
Liquorstore Bear
by
Liquorstore Bear
is licensed under a
Creative Commons Attribution-NonCommercial-ShareAlike 3.0 Unported License
.
Categories
OMG, you're reading what?
I love awards! Keep 'em coming!
Techno Viking VS Street Fighter