I may have said this before…
OMG!

Archives
Does a bear bathe in the woods?
What Scarybear's getting for his Birthday
INNIS & GUNN TOASTED OAK IPA—not just for me and my dad! - My Fellow Inebriates, Usually my dad and I get to bogar... ow.ly/2WcH2I 6 months ago
Bah! - My Fellow Inebriates, The last year at LBHQ has been like a country music song. My blog has deteriorated to... ow.ly/2UExRd 8 months ago
Tequila Snap! - I know you've all been wondering what's happened to me. I mean, what the hell? I used to post ever... ow.ly/2T1UjS 9 months ago
How long could you survive?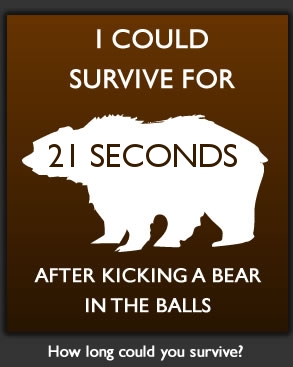 Created by Oatmeal
Liquorstore Bear
by
Liquorstore Bear
is licensed under a
Creative Commons Attribution-NonCommercial-ShareAlike 3.0 Unported License
.
Categories
I love awards! Keep 'em coming!
Techno Viking VS Street Fighter