I'm a boy bear!
Tags: boy vs girl, family, gender roles, humor
OMG!

Archives
Does a bear bathe in the woods?
What Scarybear's getting for his Birthday
VINA ESMERALDA TORRES (2011)—Yummy wine, but it can't get you drunk enough ow.ly/2x1Fue 1 day ago
ASTROLIQUOR for May 17–23, already in progress! - Okay, MFI, your Booze Horoscope has gone totally off the rails... ow.ly/2x00xJ 2 days ago
How long could you survive?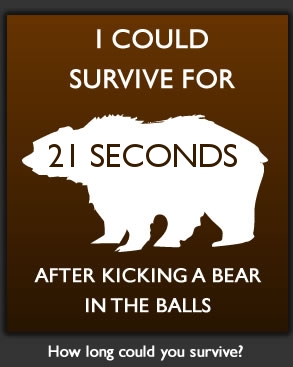 Created by Oatmeal
Liquorstore Bear
by
Liquorstore Bear
is licensed under a
Creative Commons Attribution-NonCommercial-ShareAlike 3.0 Unported License
.
Categories
I love awards! Keep 'em coming!
Techno Viking VS Street Fighter