Archive | January 21, 2012
OMG!

Recent Posts
Archives
Does a bear bathe in the woods?
What Scarybear's getting for his Birthday
Punctuate this, parents - My parents are too busy to do my typing. Again. Asked what they're doing that's so damn ... ow.ly/2F5ftU 4 weeks ago
CZECHVAR for St. Paddy's Day? Why not? - Today I am recommending a run-of-the-mill, somewhat hoppy and ref... ow.ly/2ENsAr 1 month ago
Ha! My parents wish someone would ID them. - My Fellow Inebriates, As you know, my parents are ancient. It has bee... ow.ly/2EIT8J 1 month ago
How long could you survive?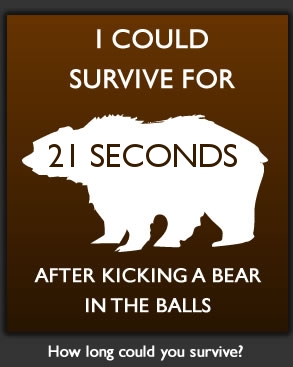 Created by Oatmeal
Liquorstore Bear
by
Liquorstore Bear
is licensed under a
Creative Commons Attribution-NonCommercial-ShareAlike 3.0 Unported License
.
Categories
OMG, you're reading what?
I love awards! Keep 'em coming!
Techno Viking VS Street Fighter